ALICE is an acronym for Asset Limited, Income Constrained, Employed, and represents the growing number of families who are working, but due to child care costs, transportation challenges, high cost of living and so much more are living paycheck to paycheck. These workers often struggle to keep their own households from financial ruin, while keeping our local communities running.  WHO IS ALICE?
To achieve lasting change, we must first understand the population of families that are working hard but falling short in each of our communities and across Florida.  We commissioned the United Way ALICE Report to better understand this challenged and often overlooked population and provide each local United Way with data to promote stronger and more resilient communities. 
ALICE may be a relative or friend. You may be ALICE. As cashiers, waiters, child care providers, and other members of our essential workforce, ALICE earns just above the Federal Poverty Level but less than what it costs to make ends meet. These struggling households are forced to make impossible choices each day.  MEET ALICE
---
2023
NEW

2023 United Way ALICE

®

 Report: Florida | ALICE in the Crosscurrents
ALICE in the Crosscurrents: COVID and Financial Hardship in Florida is brought to you by United Way of Florida in partnership with United For ALICE, a driver of innovative research and action around financial hardship for ALICE (Asset Limited, Income Constrained, Employed) households. With a commitment to racial and economic justice, United For ALICE and United Ways across Florida share this work with foundations, government, corporations, and other nonprofits to inform policy and promote positive change for ALICE households.
Local United Ways have long worked with the ALICE® population in the areas of education, income and health to build better lives. This new ALICE Report provides the first look at the extent of financial hardship in Florida using ALICE metrics since the COVID-19 pandemic began. Click to access the interactive Florida ALICE website.
County Snapshots (pdf)
Explore the Florida Data - state, county and sub-county levels
2022
ALICE In Focus Series | A Spotlight on Key ALICE Groups
Since 2009, United For ALICE has shed light on the everyday struggles of households that are ALICE (Asset Limited, Income Constrained, Employed). The ALICE in Focus Research Series takes this data to a new level, spotlighting the struggles of people in specific ALICE populations, including children, people with disabilities, and military veterans. (2022)
ALICE Legislative District Tool
One of the latest additions to the United For ALICE website helps policymakers and community stakeholders explore financial hardship by legislative district. The ALICE Legislative District Tool maps the percentage of households below the ALICE Threshold (Poverty + ALICE) in each legislative district, including U.S. congressional districts and upper and lower state legislative chambers. For each district, users can view ALICE data by race/ethnicity, and they can see a comparison between the percentage of households participating in SNAP and those who are below the ALICE Threshold. There is also a handy "Find your district" lookup. (March 2022)
ALICE COVID-19 Vaccination Tracker
The United For ALICE COVID-19 webpage has been updated to include a new Vaccination Tracker. This tool maps the percentage of households below the ALICE Threshold (Poverty + ALICE), along with the percentage of the population that is fully vaccinated against COVID-19. Policymakers and community stakeholders can track vaccination rates at the state and county levels, and pinpoint gaps in vaccination rates by location and household financial status. (March 2022)
2021
COVID-19 Impact Survey | 2021 Florida Results Report
In March 2021, United Way of Florida in partnership with several Florida United Way organizations, conducted a survey to measure the impact of COVID-19 on Floridians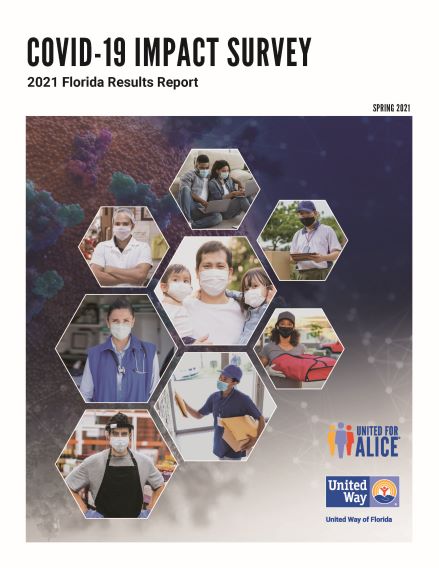 with special emphasis on the ALICE® population. This Results Report presents the combined findings from the five Florida surveys and explores how households have been impacted by the COVID-19 pandemic since March 1, 2020.
Through this survey, we were able to gather nearly 12,000 responses.  The resulting Report provides a needed bridge between the current ALICE Report and the ensuing economic effects of the pandemic.  The Report and Guidelines for Use are included here. (May 2021)
The Pandemic Divide: An ALICE Analysis of National COVID Surveys
Released in October 2021, this Report takes a detailed look at the vastly different pandemic experiences of low-income and higher-income households throughout the nation. You can find the Report PDF, an infographic, and data spreadsheet on the COVID-19 page of United For ALICE website. (October 2021)
2020
For questions, suggestions or opportunities that are regional or statewide, contact Melissa Nelson, President & CEO, United Way of Florida.