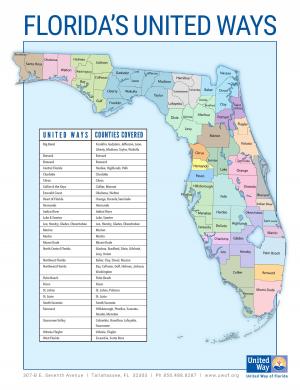 As the nation's leading community solutions provider, United Way invests in and activates the resources to make the greatest possible impact in communities across America.  The United Way movement includes approximately 1,100 community-based United Way organizations.  Each is independent, separately incorporated, and governed by local volunteers.
United Ways bring communities together to focus on the most important needs in the community -- building partnerships, forging consensus and leveraging resources to make a measurable difference.
United Way of Florida is a statewide trade association providing member services to 28 independent United Ways in Florida listed below, or click the map.
United Way of the Big Bend
Tallahassee
www.uwbb.org
United Way of Brevard County
Cocoa
www.uwbrevard.org
United Way of Broward County
Ft. Lauderdale
www.unitedwaybroward.org
United Way of Central Florida
Highland City
www.uwcf.org
United Way of Charlotte County
Port Charlotte
www.unitedwayccfl.org/
United Way of Citrus County
Crystal River
www.citrusunitedway.org
United Way of Collier & the Keys
Naples
www.uwcollierkeys.org
United Way Emerald Coast
Ft. Walton Beach
www.unitedwayemeraldcoast.org/
Heart of Florida United Way
Orlando
www.hfuw.org
United Way of Hernando County
Spring Hill
www.unitedwayhernando.org
United Way of Indian River County
Vero Beach
www.unitedwayirc.org
United Way of Lake & Sumter Counties
Leesburg
www.uwls.org
United Way of Lee, Glades & Hendry Counties
Fort Myers
www.unitedwaylee.org
United Way of Marion County
Ocala
www.uwmc.org
United Way of Martin County
Stuart
www.unitedwaymartincounty.org
United Way Miami
Miami
www.unitedwaymiami.org
United Way of North Central Florida
Gainesville
www.unitedwayNCFL.org
United Way of Northeast Florida
Jacksonville
www.unitedwaynefl.org
United Way of Northwest Florida
Panama City
www.unitedwaynwfl.org
United Way of Palm Beach County
West Palm Beach
www.unitedwaypbc.org
United Way of Pasco County
Port Richey
www.unitedwaypasco.org
United Way of South Sarasota County
Venice
www.uwssc.org
United Way of St. Johns County
St. Augustine
www.unitedway-sjc.org
United Way of St. Lucie & Okeechobee
Ft. Pierce
www.uwslo.org
United Way Suncoast
Tampa
www.unitedwaysuncoast.org
United Way of Suwannee Valley
Lake City
www.unitedwsv.org
United Way of Volusia-Flagler Counties
Daytona Beach
www.unitedwayvfc.org
United Way of West Florida
Pensacola
www.uwwf.org