UWOF Statewide Leaders Conference (June 20-23, 2023)
Event attendees have received an email containing the event survey and instructions for submitting flex credit reimbursement.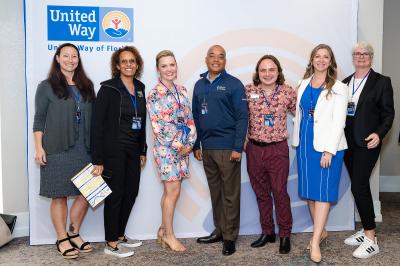 PHOTO GALLERY
View the 2023 Leaders Conference photo gallery (all photos in this gallery taken by RTW Photography).
POST-CONFERENCE SURVEY
All attendees are asked to complete the post-conference survey.
PRESENTATIONS
Below are links for many of the Conference presentations. More will be added as we receive them from presenters.
COLLECTIVE IMPACT:
Session 1 - Let's Talk About It - How to be a Part of Community Conversations that Weave Us Closer Together
Session 2 - Intertwining Innovation into Investment - Collaborative Exchanges About the Grant Impact Process
Session 3 - Working Together in Times of Crisis - Interactive Discussions on Disaster Funds Impact
Session 4 - Making ALICE a Part of Your DNA - A Conversation on Integrating ALICE into Everything We Do
MARKETING:
Session 1 - Social Media Myth Busting: Using Data to Drive Content Strategy
Local United Way speakers:
Session 2 - The Art & Science of Storytelling: Communications To Drive Actions
Local United Way speakers:
Sarah Henderson, UW Northeast FL - Changing the narrative in an underserved community  
Session 3 - Media Relations | How to Partner with Media for Win-Win-Win Relationships
Session 4 - Creating "Aha!" Moments through Meaningful Brand Experiences
Local United Way speaker:
OPERATIONS:
Session 1 - Don't Let Your Strategic Plan Collect Dust ... Keep it Moving!
Session 2 - Who Wants More Unrestricted Revenue?
Session 3 - Etiquette 2.0: Communication in a Hybrid/Remote Work Environment
Session 4 - The Ever-Changing Workforce
RESOURCE DEVELOPMENT:
Session 1 - The DNA of Diversification | Innovation in Affinity
Session 2 - The Power of Control - How to Grow Local Campaigns
Session 3 - The DNA of Disaster: Fundraising Through Disaster
Session 4 - The CNA of CRM | Automating Teamwork: Finding a CRM that Works for You
PLENARY SESSIONS:
Session 1 - Greg Haile | The Power of Philanthropy, An ALICE Conversation
Session 2 - Jay Owen | Uniting Around a Clear Story: A Framework for Growth
Session 3 - Disaster Preparedness & Recovery - A Moderated Panel
Session 4 - Todd Jones | The Publix Story
SPONSOR PRESENTATIONS: